Taxi service in Jodhpur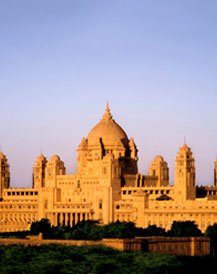 Jodhpur the blue city of rajasthan is situated in the southern rajasthan and is also the transit point for Barmer, jaiselmer and sam sand dunes. The city of versetile culture and palaces has lot to explore in there. Ummaid bhawan palace, Jaswant thada, clock tower and rai ka bagh are some of the sightseen places in jodhpur. Popular for it's Gesture, traditional houses and Indian sweet dishes Jodhpur is also having some of the most wonderful Textiles, leather crafts and Rajputi Dresses. The city is popular for Heritage furniture as well as Spices. There is a large variety Indian of spices available in the market.
Car rental service in Jodhpur can be arranged on Call with our Experts who will also make sure that you get the best value for your time and Money. Our Cabs and coaches are well condition and Drivers and friendly who take gud care of your Safety and Comfort throughout the tour. We have all type of Travel services Inclusive of Ticketing, trains, hotel bookings and Land arrangements for your Upcoming Jodhpur tour.

             Taxi hire in Jodhpur for local and Outstaion Rate sheet for Taxi service in jodhpur
| Vechile Type | Local Rate | Inclusions | Hours Limit | Outstation Per Kms | Night Allowance |
| --- | --- | --- | --- | --- | --- |
| Indigo/Dzire |    2000 | Ac vechile | 10Hrs | 9rs Ac | 200 |
| Tavera |    2500 | Ac vechile | 10Hours | 10rs Ac | 200 |
| Innova |    3000 | Ac vechile | 10Hours | 12rs Ac | 250 |
| Tempo Travel |    4500 | Ac vechile | 10 Hours | 17rs Ac | 300 |
| Mini Bus 15Seat |   5500 | Ac vechile | 10Hours | 20rs Ac | 300 |
| Mini Bus 21Seat |    6500 | Ac vechile | 10Hours | 23rs Ac | 300 |
| Bus 35Seater |    8000 | Ac vechile | 10Hours | 32rs Ac | 300 |
| Bus 41Seater | 10500 | Ac vechile | 10Hours | 37rs Ac | 300 |
| Bus 52Seater | 12500 |   Non Ac | 10Hours | 38rs Ac | 300 |