Ajmer To Jodhpur Taxi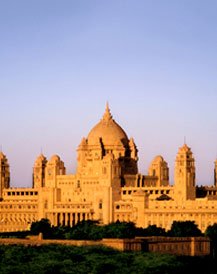 Jodhpur city also well known as Blue city or Sun City is situated in the southern part of rajasthan. Ajmer to Jodhpur distance is approx 220Kms and can be reached in 5 Hours as the Route is plain and Highway. Popular for it's Forts, Blue houses and Ajit bhawan Jodhpur city is another tourist place of Rajasthan. One Way Taxi From Ajmer To jodhpur and also One way taxi from Jodhpur to Ajmer is Available with us Upon request. We provide all type of taxi's for the Clients as per the Need and Comfort. The One side taxi to jodhpur is Subjest of availibilty of the car at the time of request. The one way ride Includes all tolls of the route and Nothing else. However the Extra hours usage shall be charged as per the regular rates of the taxi on Hourly basis.Tolls Are Always Paid By the client.
Jodhpur Is Popularly Known as Blue City Of Rajasthan. The Gateway to desert circuit of rajasthan is popular tourist destination. It has many Place's worth a Visit. Mehrangarh fort , Jaswant Thada , Rai Ka bagh , Clock Tower and Old City are Some Of The Popular Place's In Town. Most Tourist Visiting Rajasthan Have this included in their Itenary.  One Way Taxi From Ajmer To jodhpur Is Good option for travellers who look forward to travel from city to ciry. This Service gives facility for paying one side fare and Staright pick and drop from one to other city. We have all type of vechile available in your service with instant booking and confirmations. We have neat and clean cabs and coaches with professional drivers and all amenities in the car. All oneside vechile are Only for pick up from one point and drop toother location. Any other itenary then this will be on chargable basis as per the Rates.
Jodhpur city is also worl over popular for many shopings. Spice Market , leather markets , and Antique furniture markets are worth a visit during your stay. It is also known for the gesture and food and snacks. There are more then hundres popular veg and non veg unique dishes in this city.
One Way Taxi From Ajmer To Jodhpur
One Way Taxi From Ajmer To jodhpur and also One way taxi from Jodhpur to Ajmer is Available with us Upon request. We provide all type of taxi's for the Clients as per the Need and Comfort. The One side taxi to jodhpur is Subjest of availibilty of the car at the time of request. The one way ride Includes all tolls of the route and Nothing else. However the Extra hours usage shall be charged as per the regular rates of the taxi on Hourly basis.
Herebelow we have Mensioned the rates which applies for both the routes. For further details you can call us or mail us on following details

8387083735 ajmertaxiservices9@gmail.com
| Vechile Type | One way Rate | Inclusions | Hours Limit | Extra Per Kms | Extra Hours |
| --- | --- | --- | --- | --- | --- |
| Indigo/Dzire | 3500 | Ac vechile + tolls | 7Hrs | 10rs Ac | 200 |
| Tavera | 5000 | Ac vechile + tolls | 7Hours | 11rs Ac | 200 |
| Innova | 6000 | Ac vechile + tolls | 7Hours | 12rs Ac | 250 |
| Tempo Travel | 7500 | Ac vechile + tolls | 7 Hours | 17rs Ac | 300 |
| Mini Bus 15Seat | 11000 | Ac vechile + tolls | 7Hours | 20rs Ac | 300 |
| Mini Bus 21Seat | 12500 | Ac vechile + tolls | 7Hours | 23rs Ac | 300 |
| Bus 35Seater | 14500 | Ac vechile + tolls | 7Hours | 32rs Ac | 300 |
| Bus 41Seater | 18500 | Ac vechile + tolls | 7Hours | 37rs Ac | 300 |
| Bus 52Seater | 21500 | Non Ac + tolls | 7Hours | 38rs Ac | 300 |